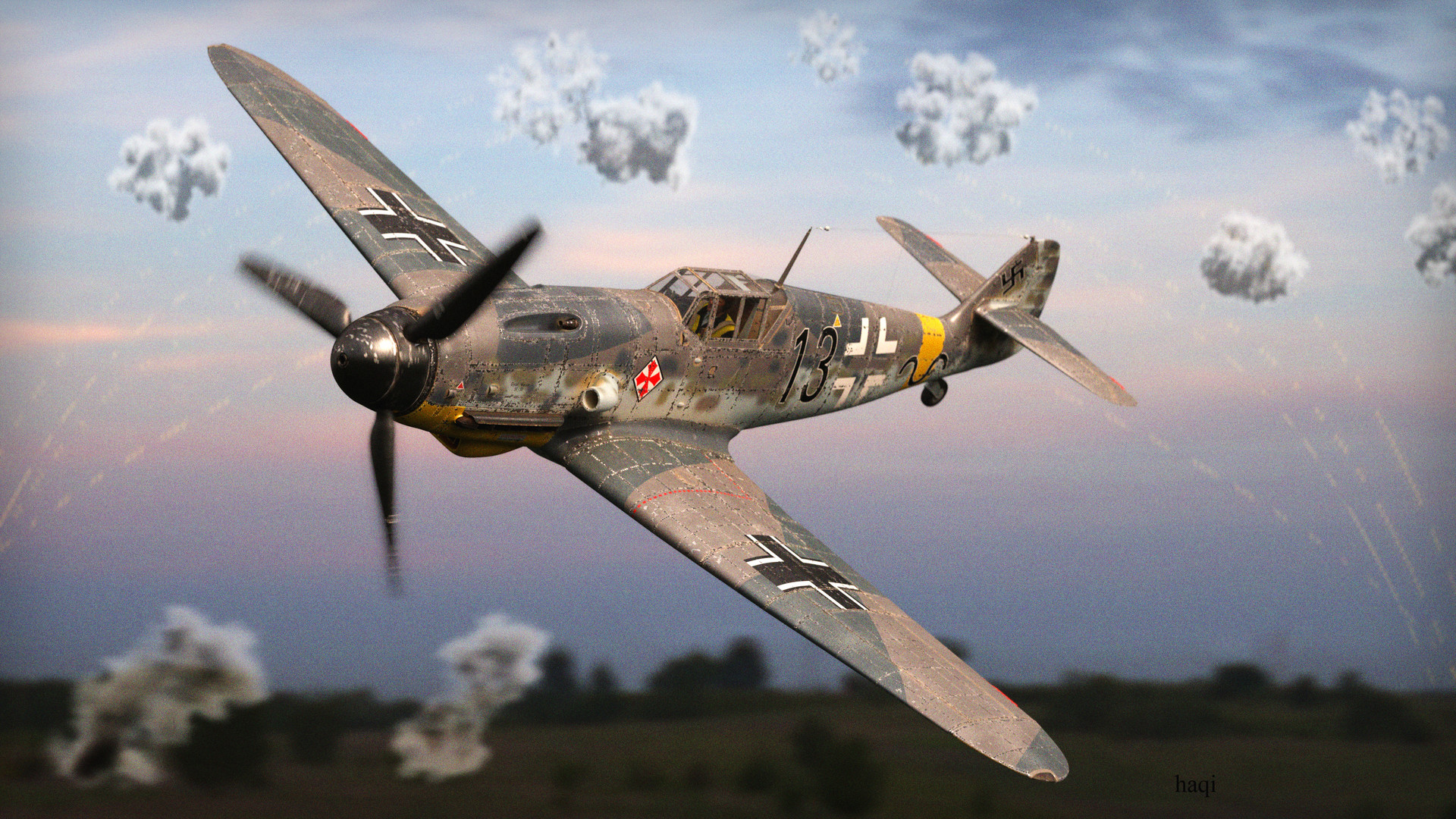 ONE OF THE FIGHTERS FLOWN BY LT. GEN. GUNTHER RALL: A BF 109 G-2
Artwork Credit: Ahmad Hafidh Alam
Gunther Rall, a German Lieutenant-General (Generalleutnant), was the third most successful fighter ace in history. During World War II, Lt. Gen. Rall flew 621 combat missions and shot down 275 enemy aircraft.  He was shot down eight times and was wounded three times.
Lt. Gen. Rall participated in aerial battles over France, Great Britain, Crete, the Eastern Front and the final defense of Germany.  The majority of Lt. Gen. Rall's 275 victories were achieved against Russian aircraft on the Eastern Front.  Lt. Gen. Rall primarily flew the Messerschmitt 109.  During the closing months of the war he also flew the FW-190 and the ME-262 jet fighter.  (He did not fly the ME-262 in combat.)
In August 1941, Lt. Gen. Rall was promoted to Oberleutnant — the highest lieutenant officer rank in the Germany armed forces.  In April 1943 he was promoted to Hauptmann — considered a captain when used as a German officer's rank.  He became a pilot in the West German Air Force in 1956.  From 1971-1974 he served as Inspector of the West German Air Force.
Lt. Gen. Rall initially joined the German infantry in July 1936 but in 1938 he decided to become an air force officer.  "I went to the air force and started flying in 1938 in Neubiberg, which is a suburb of Munich," Lt. Gen. Rall said in an interview. "In 1939 I finally graduated training as a fighter pilot on a base east of Berlin and was transferred to Jagdgeschwader (fighter wing) JG-52 [of the Luftwaffe]."
Source: Aviation History: Interview with World War II Luftwaffe Ace Gunther Rall — History Net (hereafter History Net interview): http://www.historynet.com/aviation-history-interview-with-world-war-ii-luftwaffe-ace-gunther-rall.htm.  The article was written by Colin Heaton and originally appeared in the Sept. 1996 issue of World War II magazine.
His first combat was during the Battle of France.
"At the beginning of the war I was with this wing [JG-52], and my first contact with the enemy was in May 1940.  This was over France," he said in an interview.
Source: History Net Interview.
During May 1940, he shot down his first enemy aircraft: a French Curtiss P-36 Hawk fighter.  With the fall of France, Lt. Gen. Rall's unit moved to Calais.
Lt. Rall's shot down three enemy aircraft during Operation Barbarossa on the Eastern Front during June 1941.  By Nov. 28, 1941, Lt. Gen. Rall scored his 37th victory. But on that same day his aircraft was shot down.
"A Russian came in behind me.  He shot my engine dead and it was over Russian territory, so I certainly moved and turned trying to reach the German lines — not a solid line, but I saw some German tanks. I was flying westward, and I tried to make a belly landing, but I saw where I was going to touch down, in what they call a baikal. . . . I bellied in and crashed on the other side.  That was the last I knew, as I saw this wall coming against me, and in the big bang I was knocked out."
Source: History Net Interview.
He was rescued by a German tank crew and then hospitalized with three fractures in his spine.  During his treatment at a hospital in Vienna he met Dr. Hertha Schon, whom he later married in 1943.
Lt. Gen. Rall returned to battle in August 1942.  From August to November 1943, Lt. Gen. Rall shot down 38 enemy aircraft — bringing his total to 101.  On Sept. 3, 1942, Lt. Gen. Rall was awarded the Knight's Cross of the Iron Cross.  On Oct. 22, 1942, Lt. Gen. Rall shot down his 100th enemy aircraft.  On Nov. 26, 1942, he was awarded the Knight's Cross of the Iron Cross with Oak Leaves.  The award was personally made by Adolf Hitler.
On Aug. 29, 1943, Lt. Gen. Rall scored his 200th victory during his 555th mission.  On Sept. 12, 1943, the Fuhrer awarded him the Swords to his Knight's Cross.  During 1943, Lt. Gen. Rall shot down more than 40 Soviet aircraft.
On May 12, 1944, Lt. Gen. Rall was shot down by a pair of P-47 Thunderbolt operated by the 56th Operation Group of the United States Air Force.  His left thumb was shot off.  He suffered a severe infection and was hospitalized until November 1944.
"I was wounded three times, but I was shot down about eight times. I bellied in between the front lines, I jumped out and was picked up by Germans in tanks and so on. I was always lucky, except I was seriously wounded three times.  The first time it was my back.  I was then shot and hit right in the face and in my hand, and the third time I jumped out and a P-47 Thunderbolt shot my left thumb off."
Source: History Net Interview.
Lt. Gen. Rall commanded JG 300 operating out of Salzburg from February 1945 until the end of the war, when he was taken prisoner by the Americans.  (He flew his 621st and final mission during the end of April 1945.)
"The Americans took me back to Salzburg and put me in prison, Lt. Gen. Rall said. "From Salzburg to Neu Ulm, then to Heilbronn, and there the CIC [Counter Intelligence Corps] saw me. They knew my name and said all air force officers should report, and they took me very quickly to interrogation.  Then seven of us were taken to England."
Source: History Net Interview.
After being freed Lt. Gen. Rall went to work in the civilian world.  When the Luftwaffe was re-formed in 1956, he joined and was involved in the F-104 program.  Lt. Gen. Rall was later a German military liaison to the North Atlantic Treaty Organization (NATO)
"My decision in 1956 to help establish a new German Air Force, to work for NATO and its Allies was driven by my deep conviction that based on the experiences of the past only NATO could help lead Germany back to honor by joining with its democratic countries," Lt. Gen. Rall said in an interview.  "If I could help to rehabilitate our reputation then I decided I would give the rest of my life to it."
Source: Jill Armadio, Gunther Rall: A Memoir, Luftwafe Ace and NATO General (Tangmere Productions — 2d ed. 2003). (Hereafter Armadio biography.)
"The Third Reich trained 30,000 pilots.  Ten thousand survived the war.  One-third.  This is the highest loss rate along with the U-boat sailors," Lt. Gen. Rall said in an interview.
Source: Generalleutnant Gunther Rall (Telegraph — Oct. 11, 2009).
http://www.telegraph.co.uk/news/obituaries/military-obituaries/air-force-obituaries/6299837/Generalleutnant-Gnther-Rall.html
"The highest attrition rate for all combat units in the war or traits were submarines," Lt. Gen. Rall said during a speech in Finland.  "And right next to the submarines were the fighter pilots. In every mission from mid 44 onwards, we knew that every second pilot wouldn't come back."
Source: Lecture by Lt. Gen. Rall arranged by the Aviation Museum Society, Finland (June 2003). Transcription at http://www.virtualpilots.fi:WW2History-GuntherRallEnglish.html.
Lt. Gen. Rall, the son of a merchant, was born on March 10, 1981 at Gaggenau, a small town in the Black Forest of Germany.  His family moved to Stuttgart when he was three-years-old.  He was brought up and educated in Stuttgart.  He died at age 91 on Oct. 4, 2009 at Bad Reichenhall in Upper Bavaria, Germany.  When he died he was the longest living top German ace.
Source: Armadio Biography.
In 2004, Lt. Gen. Rall wrote an autobiography titled Mein Flubuch (My Logbook). The book was published in English as My Logbook: Reminiscences 1938-2006 (2006). (A new book sells from $1,499 and used books sell from $382 on Amazon.)  Another book on the career of Lt. Gen. Rall, written by Jill Armadio, is titled Gunther Rall: A Memoir, Luftwaffe Ace & NATO General (Tangmere Productions — 2d ed. 2003).
VIDEO INTERVIEW OF GUNTHER RALL (2:18)