LAWSUITS CLAIM THAT JOHNSON & JOHNSON'S TALC-BASED POWDERS CAUSE CANCER 
Photo Credit: Lucas Jackson / Reuters 
Johnson & Johnson is facing thousands of lawsuits claiming that its talc-based powders cause ovarian cancer or mesothelioma.
On July 12, 2018, a St. Louis jury found that Johnson & Johnson's talc-based powders caused ovarian cancer and returned a verdict for $4.69 billion in favor of 22 women.  Plaintiffs alleged that the talc products were contaminated with asbestos. The jury awarded $550 million in compensatory damages and $4.14 billion in punitive damages.  In December 2018, the trial judge affirmed the verdict, which will be appealed.
After the verdict, a spokesperson for Johnson & Johnson said: "Johnson & Johnson remains confident that its products do not contain asbestos and do not cause ovarian cancer and intends to pursue all available appellate remedies."  Mark Lanier, lead counsel for plaintiffs, said in a statement that Johnson & Johnson had covered up evidence of asbestos in its products for more than 40 years.
Source: Associated Press, Jury Awards $4.7 Billion to Baby Powder Cancer Litigation (July 13, 2018).
"Every verdict against Johnson & Johnson in this court [St. Louis] that has gone through the appeals process has been reversed and the multiple errors present in this trial were worse than those in the prior trials which have been reversed," Johnson & Johnson said in a statement.
There are thousands of such cases filed in the courts.  Other ovarian cancer cases in St. Louis have resulted in verdicts of $55 million (Gloria Ristesund — May 2016), $70 million (Deborah Giannecchini — Oct. 2016), $72 million (Jackie Fox — Feb. 2016) and $110 million (Lois Slemp — May 2017).  In October 2017, the Fox case dismissed after the appeals court ruled 3-0 that Missouri lacked jurisdiction.  During August 2018, the appeals court dismissed the Ristesund case for lack jurisdiction.
After the Slemp verdict, Johnson & Johnson posted a statement on its website:
"We deeply sympathize with the women and families impacted by ovarian cancer. We will begin the appeals process following today's verdict and believe a jury decision in our favor in St. Louis in March and the dismissal of two cases in New Jersey in September 2016 by a state court judge who ruled that plaintiffs' scientific experts could not adequately support their theories that talcum powder causes ovarian cancer, further highlight the lack of credible scientific evidence behind plaintiffs' allegations. We are preparing for additional trials this year and we will continue to defend the safety of Johnson's Baby Powder."
A California jury previously returned a verdict for $417 million (Eva Echeverria — Aug. 2017) but the verdict was overturned by the trial court, which held that plaintiffs failed to satisfy their burden to demonstrate that talc and talc products cause ovarian cancer.  The case is currently on appeal.
A California jury also returned a verdict for $25.7 million (Joanna Anderson — May 2018) and a New Jersey jury returned a verdict for $117 million (Stephen Lanzo — April 2018).  Mr. Lanzo claimed that he contacted mesothelioma after more than 30 years of using Johnson & Johnson's Baby Powder and Shower-to-Shower products, which he alleged contained asbestos.
Johnson & Johnson won a defense verdict in another California case.  (Tina Herford — Nov. 2017).  The company also won a defense verdict in a New Jersey case (Rosalind Henry — Oct. 2018) and a Missouri case (Nora Daniels — March 2017).  After the defense verdict in the Daniels case, Johnson & Johnson said in a statement: "The jury's decision is consistent with the science, research, clinical evidence and decades of studies by medical experts around the world that continue to support the safety of cosmetic talc."
The scientific evidence to suggest a link between talcum powder and ovarian cancer or mesothelioma is disputed, and the United States Food and Drug Administration (FDA) generally considers talc to be safe.  However, there are some scientific papers suggesting a potential link.
"Because whether or not the company's talcum powder contains asbestos, and whether or not hid that fact from the public, the science remains firmly on J&J's side," wrote a business columnist.  "There is no evidence that women who use talcum powder are any more likely to get ovarian cancer than women who don't."
Source: Joe Nocera, Science Favor J & J in Talcum Powder Lawsuits (Bloomberg — Dec. 27, 2018).  Mr. Nocera added: "And this is one mass tort where I'm convinced the science is going to win."
In consumer material, Johnson & Johnson asserts: "Talcum powder is the refined, powdery form of the softest material on earth: talc.  Talc is an 'inert' ingredient, meaning it does not generate a chemical reaction when ingested or used on the skin. . . . We continue to use talc in our products because decades of science have reaffirmed its safety. . . . Thousands of tests repeatedly confirm that our consumer talc products do not contain asbestos."
It was recently reported that "internal documents examined by Reuters show that [Johnson & Johnson's] powder was sometimes tainted with carcinogenic asbestos and that J&J kept that information from regulators and the public."
Source: Lisa Girion, Johnson & Johnson knew for decades that asbestos lurked in its Baby Powder (Reuters — Dec. 14, 2018).
Johnson & Johnson reported in a filing with the U.S. Securities and Exchange Commission (SEC) that it has been named as a defendant in at least 3,100 claims  involving its talc-based powders.  There were more than 130 cases pending in a federal Multi-District Litigation (MLD) proceeding in New Jersey.
Source: Larry Bodine, Progress in Talcum Powder Multidistrict Litigation in NJ (Mass Tort Nexus — March 9, 2017).
UPDATE ON RECENT VERDICT — On March 13, 2019, an Oakland, California jury returned a verdict for nearly $30 million against Johnson & Johnson in a cosmetic talc powder case. The trial in Alameda County Superior Court took more than six weeks.  The jury of five men and seven women concluded that the talc was asbestos-tainted and was responsible for plaintiff Teresa Leavitt's mesothelioma.  The jury found that asbestos-tainted baby power was a "substantial contributing factor" in Ms. Leavitt's cancer. The jury also blamed Johnson & Johnson for "failing to adequately warn" about the powder's "potential risks."  Ms. Leavitt's doctors testified that her mesothelioma is advanced and she is not expected to live beyond 2020.  The jury found Johnson & Johnson responsible for 78 percent of Ms. Leavitt's award and its consumer products unit was responsible for 20 percent.  The jury also found that Cypress Mines, one of Johnson & Johnson's former talc suppliers, was responsible for the remaining two percent.  Kim Montagnino, a spokesperson for Johnson & Johnson, said in a statement: "We are disappointed with today's verdict and will pursue an appeal because Johnson's Baby Powder does not contain asbestos or cause cancer."  Officials for Johnson & Johnson contend that Superior Court Judge Brad Seligman made errors in ruling on procedure and evidence and the trial should have resulted in a mistrial.  Joseph Satterly, a lawyer for Ms. Leavitt, said: "We are proud of the jury's hard work and confident that jurors in future cases will likewise follow the science and the law."  One juror, Kate Alessandri, an Oakland librarian, said: "They knew there was asbestos in it, and for me that's the worst part because they failed to warn the customer."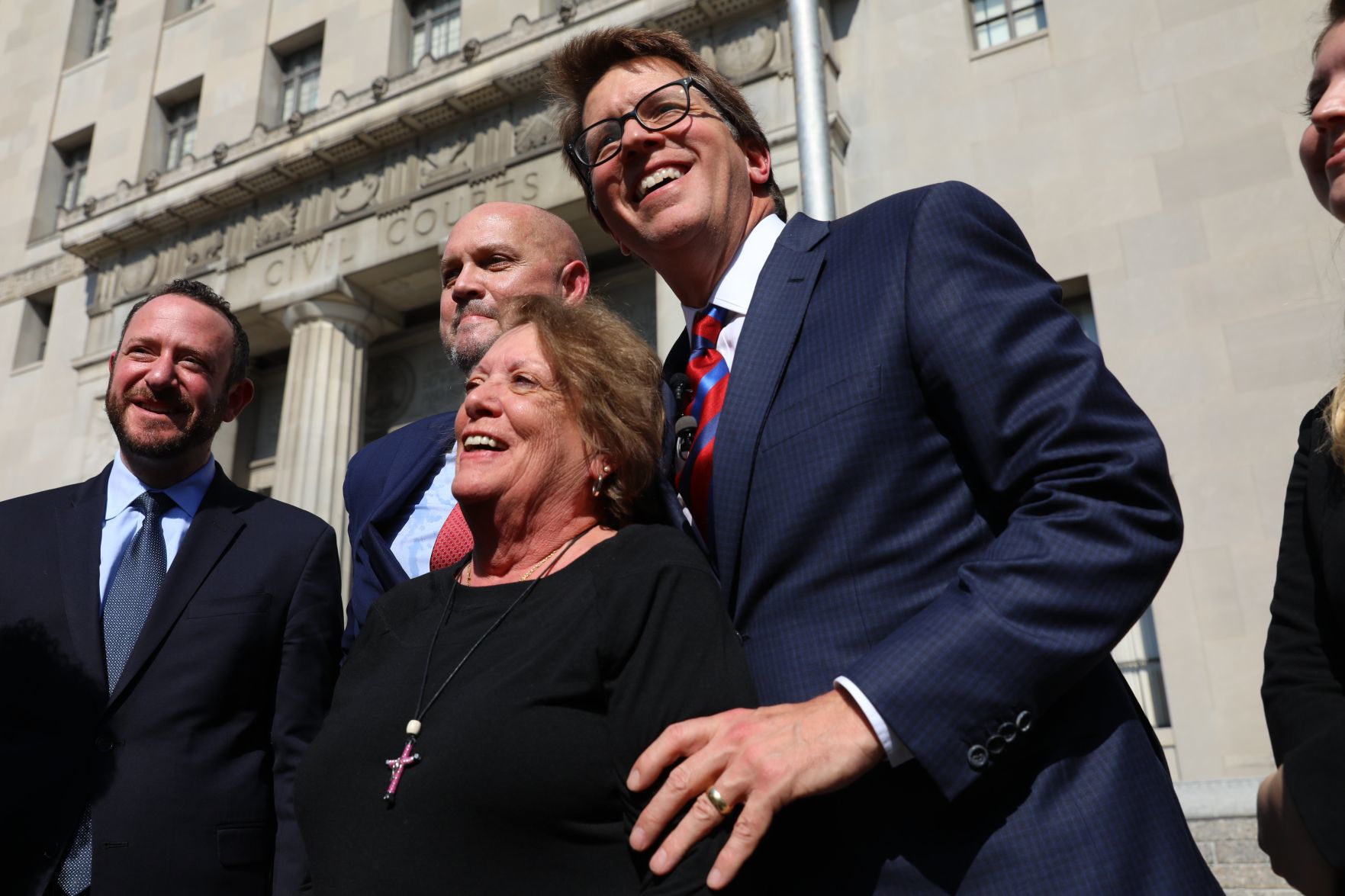 MARK LANIER WAS THE LEAD PLAINTIFF'S COUNSEL IN THE ST. LOUIS TRIAL THAT ENDED WITH A $4.69 BILLION VERDICT AGAINST JOHNSON & JOHNSON. HE IS PICTURED WITH HIS CLIENT, GAIL INGHAM, FOLLOWING THE VERDICT ON JAN. 12, 2018 
Photo Credit: Christian Gooden / St. Louis Post-Dispatch / AP