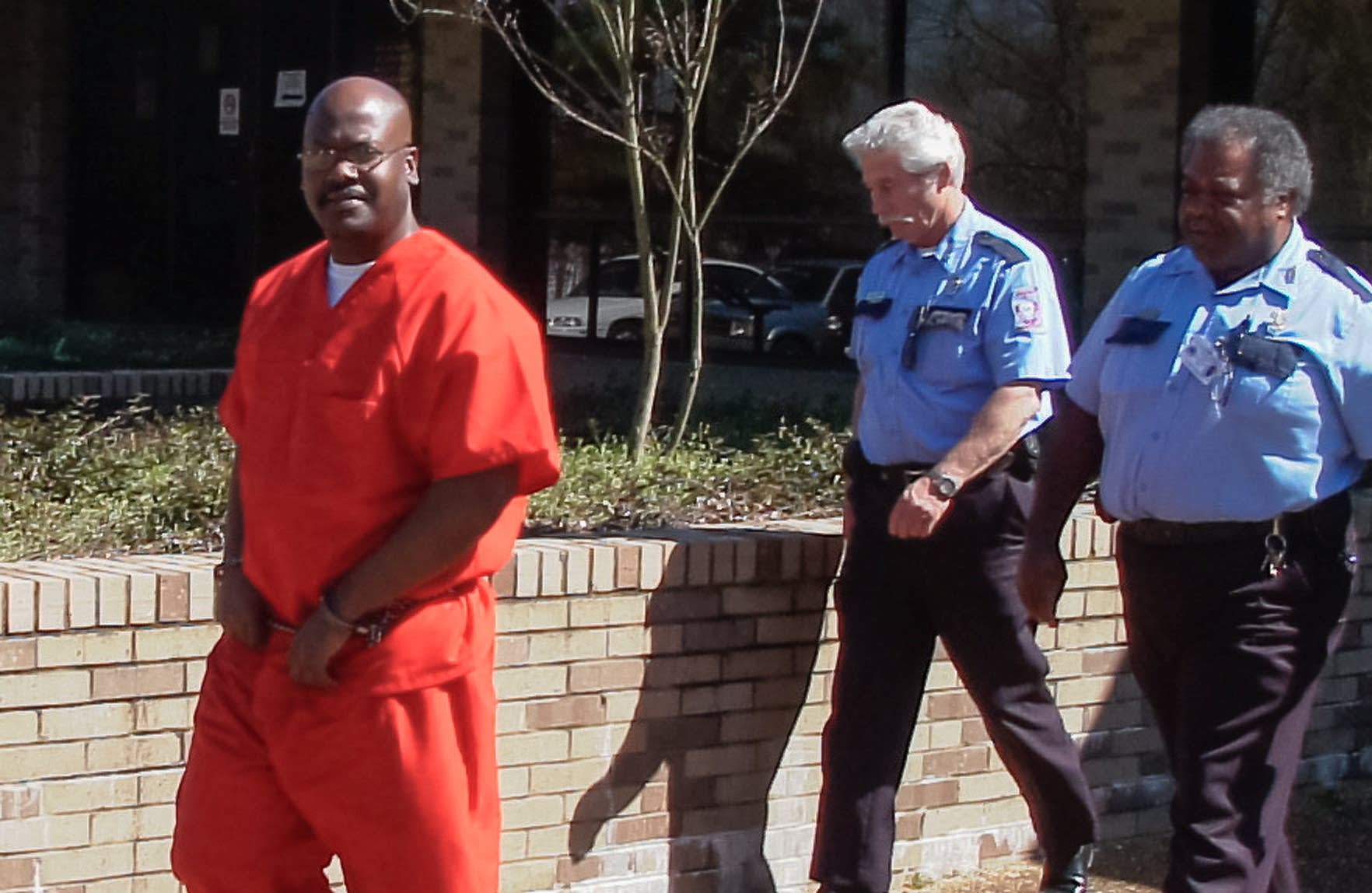 CURTIS FLOWERS IS LED AWAY FROM THE MONTGOMERY COUNTY COURTHOUSE IN WINONA, MISSISSIPPI AFTER A COURT HEARING ON MARCH 16, 2014
Photo Credit: Dale Gerstenslager / AP
On March 20, 2019, the United States Supreme Court entertained oral argument in Flowers v. Mississippi, Supreme Court Case No. 17-9572.  The issue before the Court was whether a criminal defendant's Constitutional rights were violated by the prosecution's exercise of its peremptory strikes to exclude five black prospective jurors.
Sheri Lynn Johnson of Ithaca, New York presented the argument on behalf of Flowers.  She began her argument by stating:
"The only plausible interpretation of all of the evidence viewed cumulatively is that [District Attorney] Doug Evans began jury selection in Flowers IV with an unconstitutional end in mind, to seat as few African American jurors as he could. The numbers are striking. In the first four trials, Mr. Evans exercised 36 peremptory challenges, all of them against African American jurors.  in the sixth trial, he exercised five out of six of his challenges against African American jurors."
LAWYER SHERI LYNN JOHNSON ARGUING ON BEHALF OF FLOWERS: SHE ARGUED THAT DISTRICT ATTORNEY DOUG EVANS WANTED AS FEW BLACK JURORS AS POSSIBLE 
Art Credit: Art Lien
Jason L. Davis, Special Assistant Attorney General of Jackson, Mississippi, presented the argument on behalf of the State of Mississippi.  He began:
"The history of this case is troubling, but the history is confined to this case, and, as Mr. Chief Justice pointed out, it is unusual.  There are — this is the sixth trial in this small town, a small town of approximately 5,000 individuals.  The questioning of whether the makeup or the limited number of individuals in the town was one of the reasons for follow-up questions is accurate. At the outset, let me say that the Mississippi Supreme Court's decision in this case was commensurate with Batson and its progeny."
Mr. Davis later argued that while there is a troubling history involving earlier trials the strikes in the sixth trial were proper.  "Each of the jurors that were struck either worked with a relative, were related, or knew, intimately, family members, the defendant or his family members, up to and including one juror who lied on her questionnaire and then admitted to lying on the stand. . . . The juror who lied on her questionnaire expressly admitted that she lied for the sole purpose of getting off the jury."  Dr. Davis further argued: "This is one of the issues with this case, is that each of these strikes that we have, we don't have one single reason.  We have numerous."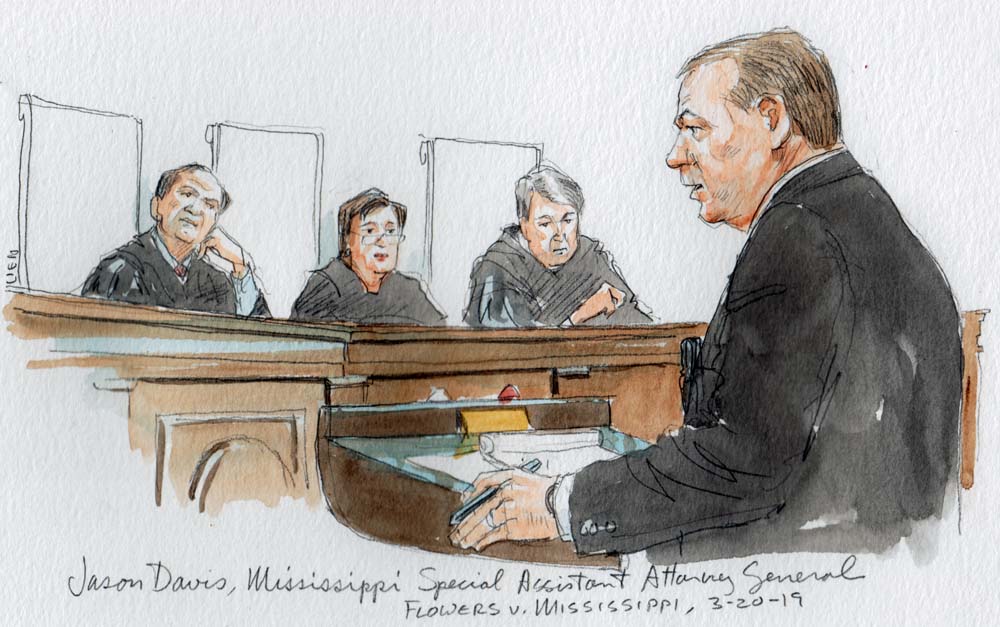 SPECIAL ASSISTANT ATTORNEY GENERAL JASON DAVIS ON BEHALF OF THE STATE OF MISSISSIPPI: HE ARGUED THAT FLOWERS' RIGHTS UNDER BATSON WERE NOT VIOLATED 
Artwork Credit: Art Lien
Curtis Giovanni Flowers was charged with murdering four employees of Tardy Furniture Store in Winona, Mississippi.  The factual background was set forth by the Mississippi Supreme Court in Flowers v. State, 240 So.3d 1082 (Miss. 2017).
On the morning of July 16, 1996, Bertha Tardy, the owner of the furniture store, along with three other employees were found with gunshot wounds to the head at the furniture store.  The other employees were Robert Golden, Carmen Rigby and Derrick Stewart.  The victims were discovered by Sam Jones, who arrived at the store for the purpose of employee training.  Mr. Stewart was still alive when Mr. Jones arrived but he later succumbed to his injuries.
[Ms. Tardy was 59, was the owner of Tandy Furniture Company. She had a husband and a daughter.  She was a graduate of Winona High School and New York School of Interior Design.  Mr. Golden, 42, was a delivery worker at the furniture store. Ms. Rigby, 45, was the bookkeeper at the furniture store and had a husband and two sons.  Mr. Stewart, 16, a part time employee at the furniture store, died on July 22, 1996 at University Hospital at Jacksonville, Mississippi.  He played short stop and pitcher for Winona High School and was the team's leading hitter.]
Johnny Hargrove, the Chief of Police for Winona, was the first law enforcement officer to arrive.  Shell casings from 0.380 caliber bullets were recovered from the scene and a bloody shoeprint was found near one of the victims.  About this time there was a call about an automobile burglary at Angelica Garment Factory.  Deputy Sheriff Bill Thornburg responded and learned that someone burglarized Doyle Simpson's car and stole a 0.380 caliber pistol.  An employee of the garment factory, Katherine Snow, had seen Flowers near Mr. Simpson's car about 7:15 that morning.
Flowers was located and interviewed about 1:30 p.m.  Flowers consented to a gunshot residue test.  On July 18, 1996, Flowers was interviewed for a second time. He said he had been babysitting his girlfriend's children on the morning of the murders but provided inconsistent statements about his schedule.  Flowers said he had been employed at the furniture store for a few days earlier that month but was fired on July 6, 1996 after he did not show up for work for a few days.
Flowers moved to Texas in September 1996.  After further investigation, Flowers was arrested and brought back to Mississippi.  During March 1997, Flowers was indicted on four counts of capital murder.
The case was unusual because it was tried six times.
First Trial — In October 1997, after a change of venue from Montgomery County to Lee County, Flowers was convicted for the murder of Bertha Tardy and sentenced to death.  The Mississippi Supreme Court reversed Flowers' convictions on the ground that his right to a fair trial was violated by admission of evidence of the other three murder victims.  Flowers v. State, 773 So.2d 309 (Miss. 2000) (Flowers I).
Second Trial — Flowers' second murder trial took place in Harrison County for the murder of Derrick Stewart.  Flowers was convicted and sentenced to death.  On appeal, the Mississippi Supreme Court reversed the conviction.  The court held that Flowers' right to a fair trial was violated by admission of evidence of the other victims and by the prosecution arguing facts not in evidence.  Flowers v State, 842 So.2d 531 (Miss. 2003) (Flowers II).
Third Trial — Flowers' third trial took place in 2004 in Montgomery County for all four murders.  Flowers was convicted and sentenced to death.  The conviction was reversed after the Mississippi Supreme Court held that the prosecution engaged in racial discrimination during jury selection.  Flowers v. State, 947 So.2d 910 (Miss. 2007) (Flowers III).
[In Flowers' third trial Mr. Evans used all 15 of his peremptory strikes against black prospective jurors.  The Mississippi Supreme Court found that Mr. Evans discriminated in jury selection.  The court called Mr. Evans' actions "as strong a prima facie case of racial discrimination as we have ever seen."]
Fourth and Fifth Trials — Flowers' fourth and fifth trials were also on all four counts of capital murder. Both resulted in mistrials when the jury was unable to reach a unanimous verdict during the culpability phase.  The State did not seek the death penalty in the fourth trial but sought it in the fifth trial.
[In the fourth trial, seven white jurors voted to convict and all five black jurors voted to acquit.  In the fifth trial, all but one juror — a black man — voted to convict.  This resulted in a hung jury.  After the trial the prosecutor charged the hold-out juror with perjury after the trial judge accused him of lying during voir dire.  The state attorney general eventually dropped all charges.]
[After the fifth trial, an alternate juror was charged with perjury for lying under oath about her contact with Flowers and his family before the trial.  She pleaded guilty and was sentenced to 15 months in prison.]
Sixth Trial — During June 2010 Flowers' sixth trial took place in Montgomery County for all four murders. The prosecution called 21 witnesses during its case-in-chief.  On June 18, 2010, the jury returned a guilty verdict for all four murders.  Following a sentencing hearing, the jury sentenced Flowers to death.
It has been reported that Flowers' sixth trial was the first time in United State history that the same person has been tried six times on the same murder charges.  Flowers' sixth trial, Mr. Evans struck five black women and used a six strike on a white woman.
"Prosecutors have consistently argued Flowers had a 'beef' with the store because his paycheck had been withheld to offset merchandise damaged in his care. Several other factors tied Flowers to the crime: bloody shoe prints found at the scene matched shoes he was said to own; several eyewitnesses saw him in front of or near the store the morning of the killings; the gun used was stolen from Flowers' uncle's car the morning of the killings and Flowers was seen sitting on the car; cash found at Flowers' home was close to what had been stolen from the store, and a gunshot residue test performed on Flowers hours after the killings confirmed particles on his hands."
Source: Monica Land, No 7th trial for Curtis Flowers in quadruple murder (Nov. 16, 2014 — The Clarion-Ledger).
District Attorney Doug Evans represented the State of Mississippi in all six of Flowers' trials.  Mr. Evans used 44 strikes in total — 36 against black and eight against white prospective jurors.
Flowers appealed based upon 13 assignments of error.  Assignment of Error No. 6 was that the jury selection process, the composition of the venire and the jury seated, and pervasive racial and other bias surrounding the matter violated Flowers' constitutional rights under the Sixth and Fourteenth Amendments to the United States Constitution.
On Nov. 11, 2017, in a 6-3 opinion written by Justice Josiah D. Coleman, the Mississippi Supreme Court affirmed Flowers' convictions and the imposition of the death penalty.  Flowers v. State, 240 So.3d 1082 (2017) (Flowers IV).  As to the jury selection issue, the court held that the fact that the prosecutor committed a "Batson violation" during an earlier trial did not preclude finding on retrial that the same prosecutor's race-neutral explanations for striking five black venire members were credible.  The court concluded: "Taking into account the 'historical evidence' of past discrimination, i.e., Mr. Evans' past Batson violations, the Court remains unpersuaded that the trial court erred in finding that the State did not violate Batson."  240 So.3d at 1135.
A "Batson violation" is based on the United States Supreme Court's decision in Batson v Kentucky, 476 U.S. 79 (1986), in which the Court held that the Constitution forbids prosecutors from challenging potential jurors solely on account of their race or the assumption that black jurors as a group will be unable to impartially consider the State's case against a black defendant.
Mr. Davis noted that the trial at issue was presided over by Judge Joseph H. Lopez, Jr., who "acknowledged that he would be diligent in making sure the same type of error [that took place in Flowers' third trial] did not occur again." Mr. Davis quoted Judge Lopez from the trial transcript where Judge Lopez said "I'm going to look very closely at this case."  Mr. Davis further argued:
"In this case, the record itself shows that the district attorney offered valid race-neutral reasons for each strike. Each strike was considered by the trial court, who had made aware — made the parties aware of — that he was aware of the history of the case, and the record supports that all the jurors that were struck because they were either sued by Tandy Furniture, they were either related to the defendant, or friends with, or had worked with members of the defendant's family."
CIRCUIT JUDGE JOESPH H. LOPEZ, JR. OF MONTGOMERY COUNTY, MISSISSIPPI WAS THE TRIAL JUDGE FOR FLOWERS' SIXTH MURDER TRIAL
Photo Credit: Unknown
Justice Brett Kavanaugh asked Mr. Davis: "And can you say, as you sit here today, confidently you have confidence in the — how this all transpired in this case?" Mr. Davis responded:
"If have confidence in this record, Justice Kavanaugh.  I have confidence in the strikes that the district attorney made based on the four corners of this record. I have confidence that, if reviewed with an eye towards what actually transpired, it supports the Mississippi Supreme Court's decision in this case.  That I have confidence in."
In response to a comment by Justice Sonia Sotomayor that she would have thought that a different prosecutor would have been substituted before the fifth and six trials, Mr. Davis ended his argument:
"And again, I would agree completely, Justice Sotomayor, that we have an unusual circumstance, an unusual case with these six trials having been all tried by the same prosecutor. But I would resubmit, again, that the decision of the Mississippi Supreme Court in this instance was not violative of Batson and its progeny."
The arguments before the Supreme Court were analyzed by Amy Howe, a former law professor who has argued two cases before the Supreme Court:
"After nearly an hour of oral argument that included the first questions by Justice Clarence Thomas since 2016, there seemed to be at least five justices who agree with Flowers. . . . Although Johnson emphasized Evans' history of striking potential African-American jurors throughout the trials in Flowers' case, much of the oral argument was spent grabbling with the specifics of Evans' strikes in the sixth trial, and in particular some potential jurors' relationships with the victims and their families and the extent to which Evans had questioned the would-be jurors about potential biases."
Source: Amy Howe, Argument analysis: Justices seem receptive to inmate's juror-discrimination claims (Howe on the Court — March 21, 2019). Ms. Howe further reported:
"But then Justice Clarence Thomas . . . had a question. He wanted to knw whether Flowers' trial lawyer had used any of her peremptory strikes — and, if so, what was the race of the jurors whom she had struck.  Johnson responded that the trial lawyer had only used her strikes to remove white jurors from the juror pool, adding that 'her motivation is not the question here.  The question is the motivation of Doug Evans.'"
If Flowers' conviction is reversed then he could still face a seventh trial.
DISTRICT ATTORNEY DOUG EVANS QUESTIONING A WITNESS DURING ONE OF THE SIX TRIALS ACCUSING FLOWERS OF FOUR COUNTS OF MURDER.  MR. EVANS WAS ELECTED DISTRICT ATTORNEY IN 1992 AND HAS SERVED IN THAT POSITION SINCE THAT TIME.
Photo Credit: Taylor Kuykendall / The Greenwood Commonwealth / AP
THE FOUR MURDERS TOOK PLACE AT THE TARDY FURNITURE STORE IN WINONA, WHICH IS NOW CLOSED
Photo Credit: Monica Land / The Clarion-Ledger