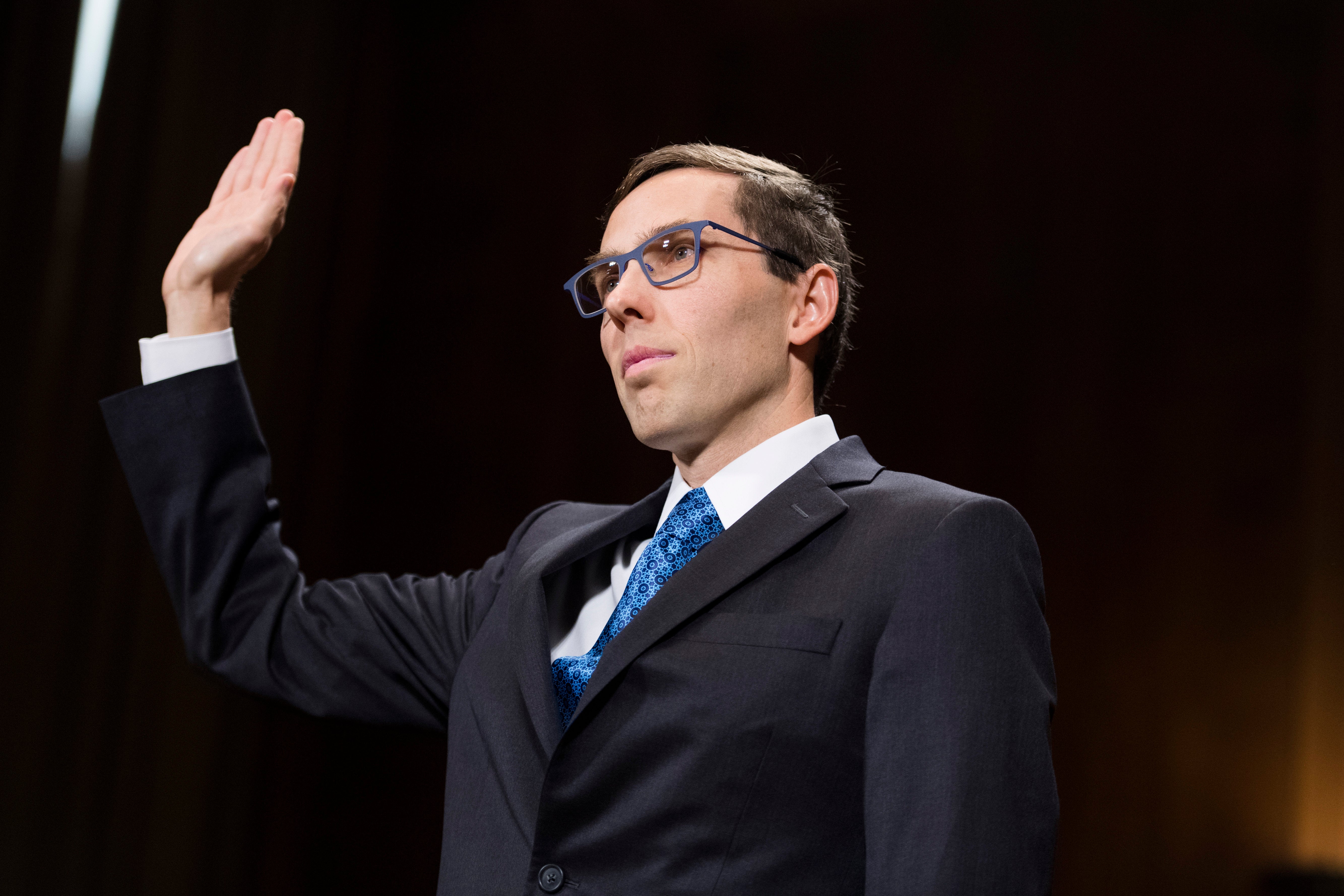 ERIC D. MILLER BEING SWORN IN AS A JUDGE ON THE NINTH CIRCUIT COURT OF APPEALS
Photo Credit: Tom Williams / Getty Images
Eric D. Miller is a partner at the Seattle law firm of Perkins Coie and a former Law Clerk to Justice Clarence Thomas.  On Feb. 26, 2019, Mr. Miller's nomination by President Donald J. Trump to a position on the Ninth Circuit Court of Appeals was confirmed by the United States Senate by a vote of 53-46.
Mr. Miller's home-state Senators are Sen. Patty Murray and Sen. Maria Cantwell, both Democrats. There is a Senate tradition for both of a judicial nominee's Senators to consent to the nomination before the nominee is considered by the Senate Judiciary Committee.  However, both of the Senators did not return the so-called "blue slip" to the Senate Judiciary Committee to show their approval of Mr. Miller.
Sen. Chuck Grassley (R-Iowa), chair of the Senate Judiciary Committee, held the nomination hearing for Mr. Miller during October 2018.  The Senate Judiciary Committee voted 12-10 in favor of Mr. Miller on partisan lines.  In a letter to Sen. Murray and Sen. Cantwell sent before the hearing, Sen. Grassley told them that the Senate Judiciary Committee honored the blue slip procedure for nominees to the federal district courts but did not need to honor the practice for nominees to federal appeals courts because the appellate courts hear cases from multiple states.
Sen. Murray and Sen. Cantwell disapproved of Mr. Miller due in part to his membership in the conservative Federalist Society. However,  Mr. Miller had outstanding credentials.  He served as an assistant to the Solicitor General from 2007 to 2012 and was Deputy General Counsel at the Federal Communication Commission from 2006-2007.
Mr. Miller is the first judge confirmed in more than 100 years over the objections of both home-state Senators, said Carl Tobias, a Professor of Constitutional Law at the University of Richmond School of Law.
On Feb. 25, 2019, Sen. Murray  said on the Senate floor that "my Republican colleagues will apparently stop at nothing to jam President Trump's extreme conservatives onto the courts — even if that means trampling all over precedent, process or any semblance of our institutional norms."
Mr. Miller has worked on high-profile cases involving Indian tribal rights.  The National Congress of American Indians and the Native American Rights Fund publicly opposed Mr. Miller's nomination.  Nevertheless, the two Indian organization stated in a letter to the Senate Judiciary Committee that Mr. Miller was "a talented attorney with an impressive resume."
Mr. Miller defended his professional record during his nomination hearing.
"In any of those cases, whether with the government on the sides of the tribe, or in private practice in a number of cases opposed to tribes, my role has been that of an advocate," Mr. Miller said. "My job as an advocate is not to advance m own views, but to advance the client's views and to do the most that I can within the bounds of the law to zealously achieve the client's interests and that's what I have done."
Mr. Miller earned his law degree at the University of Chicago Law School with highest honors.  He graduated magna cum laude from Harvard University with an A.B. in Physics.  Mr. Miller's private law practice focused on United States Supreme Court and other appellate litigation.  He presented more than 60 appellate arguments including 16 in the United States Supreme Court.  In 2017, Mr. Miller obtained a unanimous decision from the United States Supreme Court establishing that the sovereign immunity of an Indian tribe does not bar damages actions against tribal employees.  Lewis v. Clarke, 137 S.Ct. 1285 (2017).
Mr. Miller will replace Judge Richard C. Tallman, who announced his senior status in March 2018. President Trump nominated Mr. Miller during July 2018. At the same time, President Trump nominated two Seattle attorneys to serve on the federal district court bench: Tessa M. Gorman, an Assistant United States Attorney and Kathleen M. O'Sullivan, a partner in Mr. Miller's law firm.
SEN. MARIA CANTWELL AND SEN. PATTY MURRAY CHEER DURING A RALLY AT BOEING IN SEATTLE
Photo Credit: Unknown