JESS ROSKELLEY DURING A CLIMB IN BRITISH COLUMBIA DURING DECEMBER 2017
Mr. Roskelley was named as one of the most adventurous persons in the world by Men's Journal
Photo Credit: Ben Herndon
Jess Roskelley of Spokane, the 36-year-old son of famed American alpinist John Roskelley, died along with two Austrian mountain climbers when they were caught in a large avalanche in the Canadian Rockies.  The other climbers were David Lama and Hansjorg Auer.
On April 16, 2019, the trio was attempting to climb M16, a difficult route up the 10,810-foot Howse Peak.  The bodies of the three men were found on April 21, 2019.
Howse Peak is in Alberta near the British Columbia provincial line in Banff National Park.
"This route they were trying to do was first done in 2000," said Jess' father.  "It's just one of those routes where you have to have the right conditions or it turns into a nightmare.  This is one of those trips where it turned into a nightmare."
Father and son climbed Mount Everest together when Jess was 20.  At that time, Jess was the youngest person to climb Mount Everest.  (Several years later a 13-year-old boy climbed Mount Everest.)  Jess' father had attempted to climb Mount Everest three times before he was successful with his son.
Jess was considered to be a bold and innovative climber.  In October 2012 he and John Frieh climbed a new route on Mount Wake in the Alaska Range. In April 2013 Jess and climbers Ben Erdmann and Krisoffer Szilas climbed a new route on the Citadel, a peak in the Kichatna Mountains of Alaska.  In 2017 he and Clint Helander made the first ascent of the south ridge of Mount Huntington in Alaska.  Last year he established several new climbs in the Kondus Valley of northern Pakistan.  During November 2018 he and Spokane climber Scott Coldiron established a new route in the Cabinet Mountains.
In 2017 Jess was named as one of the "most adventurous" persons in the world by Men's Journal.
Jess passed the Rainier Mountain Guides exam when he was 18-years-old and began his climbing career as a guide on Mount Rainier.  Jess is survived by his wife, Allison Roskelley.  They married in 2015.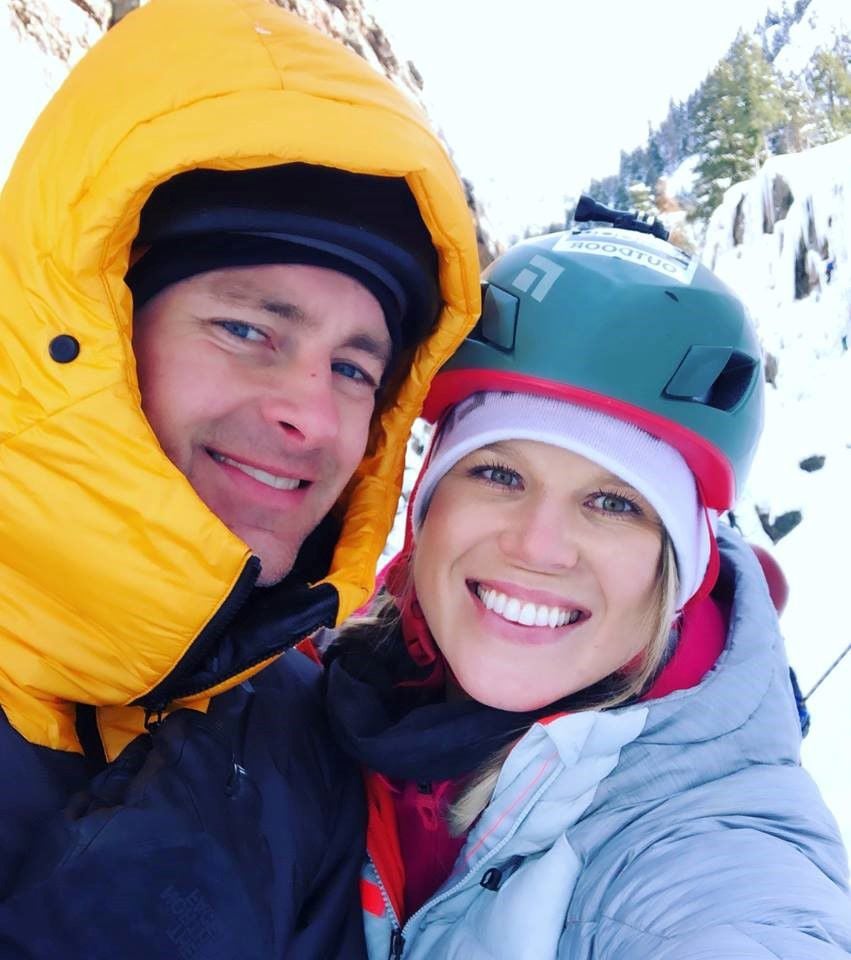 JESS AND HIS WIFE ALLISON ROSKELLEY
Mr. Roskelley and his wife Allison were married in 2015
David Lama, 28, was from Innsbruck, Austria.  He won the European Championship in bouldering in 2007 and the European Championship in lead climbing in 2006.  He was the first person to complete a free ascent of the Compressor Route (South-East Ridge) on Cerro Torre in the Southern Patagonian Ice Field in South America. During a solo expedition he 2018 he was the first to climb Lunag Ri in the Himalayas.
Hansjorg Auer, 35, was from Zams, Tyrol, Austria.  He is best known for his free solo climb of "Tempi Moderni" (Modern Times) on the south face of Marmolada in the Dolomites in northeastern Italy in 2006 and his solo climb of the "Via Attraverso il Pesce," commonly known as "The Fish," also on the south face of Marmolada. He also climbed many mountains of more than 7,000 meters (23,000 feet) in the Himalaya and the Karakoram ranges.
JESS ROSKELLEY, DAVID LAMA AND HANSJORG AUER WERE REPRESENTATIVES OF THE NORTH FACE
National Geographic called the men among the most accomplished alpinists of their generation
Photo Credits: The North Face