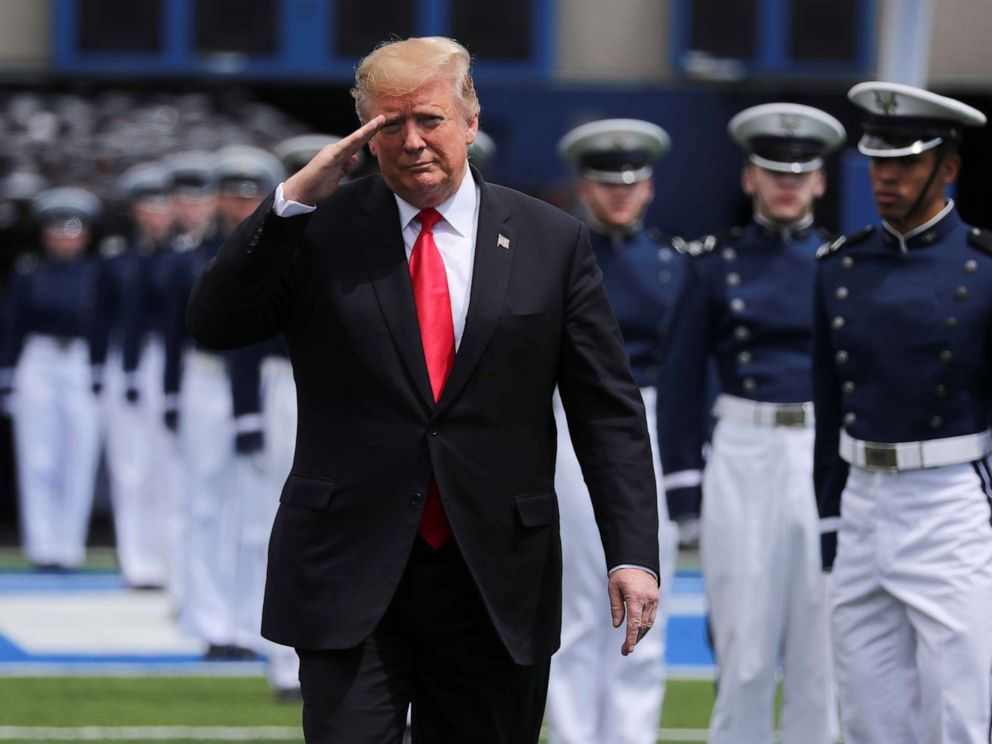 AFTER ANNOUNCING THE MEXICO TARIFFS PRESIDENT TRUMP ARRIVED AT THE UNITED STATES AIR FORCE ACADEMY TO DELIVER THE COMMENCEMENT ADDRESS 
He received a resounding applause after he said he would shake the hand of each graduate of the Academy.  "You can shake the one hand, the top of the class. You can shake 10, 50, or 100.  Or you could also stay for 1,000.  And I'm staying for 1,000," the President said.
Photo Credit: Jonathan Ernest / Reuters
President Trump announced a five percent tariff on all Mexican imports.  The move is designed to put pressure on Mexico to crack down on Central American illegal aliens trying to cross the United States border.  He said that he will gradually increase the tariff "until the illegal immigration problem is remedied."
President Trump told reporters on May 30, 2019 that he planned "a major statement" that would be his "biggest" so far on the borders.  He later told reporters: "We are going to do something very dramatic on the border because people are coming into our country. The Democrats will not give us laws [to stop the inflow]."
After President Trump headed to a commencement speech for 2019 United States Air Force Academy graduates he tweeted:
"On June 10th, the United States will impose a 5% Tariff on all good coming into our Country from Mexico, until such time as illegal migrants coming through Mexico, and into our Country, STOP.  The Tariff will gradually increase until the illegal Immigration problem is remedied . . . at which time the Tariffs will be removed. Details from the White House to follow."
A statement from the White House said: "Tariffs will permanently remain at the 25 percent level unless and until Mexico substantially stops the illegal inflow of aliens coming through its territory."
PRESIDENT TRUMP BOARDS AIR FORCE ONE AT JOINT BASE ANDREWS IN MARYLAND TO TRVAEL TO THE AIR FORCE ACADEMY IN COLORADO
"If the illegal migration crisis is alleviated through effective actions taken by Mexico, to be determined in our sole discretion and judgment, the tariffs will be removed," President Trump said.
Photo Credit: Jonathan Ernst / Reuters
UPDATE — In response to President Trump's tariff plan Mexico said that it would deploy its National Guard to Mexico's southern border with Guatemala.  President Trump said he would delay the tariff and tweeted on June 9, 2019: "There is now going to be great cooperation between Mexico & the USA, something that didn't exist for decades. However, if for some unknown reason there is not, we can always go back to our previous, very profitable, position of Tariffs — But I don't believe that will be necessary."