FRENCH PRESIDENT EMMANUEL MACRON DELIVERS HIS SPEECH COMMEMORATING THE CENTENNIAL OF THE WORLD WAR 1 ARMISTICE
Photo Credit: Benoit Tessier / Pool Photo via AP
There was a ceremony on Nov. 11, 2018 at the Arc de Triomphe in central Paris to commemorate the more than 8 million persons who died in World War One.  The ceremony was attended by world leaders including President Donald Trump of the United States, President Vladimir Putin of Russia, Chancellor Angela Merkel of Germany, Prime Minister Justin Trudeau of Canada and President Emmanuel Macron of France.  British Prime Minister Theresa May was not there; she chose to attend a ceremony in London that day.
President Macron, who has become unpopular in France, led the ceremonies.  Instead of simply giving tribute to the persons who died in the war, President Macron also used the occasion in an attempt to humiliate President Trump, a nationalist with an "America First" stance.
"Patriotism is the exact opposite of nationalism," President Macron said. "Nationalism is a betrayal of patriotism by saying: 'Our interest first.  Who cares about others?'"
President Trump was stoic during President Macron's speech but he politely clapped at the end of the speech.  Because President Trump had no speaking role at the ceremony, he did not address President Macron's insults.  President Trump was friendly with President Putin.
"Mr. Putin . . . seemed focused on Mr. Trump, approaching him at the Arc de Triomphe, shaking his hand and giving him a friendly pat on the arm."  Source: Peter Baker and Alissa J. Rubin, Trump's Nationalism, Rebuked at World War I Ceremony, Is Reshaping Much of Europe (The New York Times — Nov. 11, 2018).
On the day before the ceremony, President Macron welcomed President Trump and called him his "good friend."  President Macron and President Trump shook hands on the steps of the Elysee Palace.  It was President Trump's second visit to Paris since July 2017, when he arrived as President Macron's guest of honor at Bastille Day celebrations.
Pat Buchanan called President Macron's comments at the ceremony "a rebuke bordering on national insult."  Source: Pat Buchanan, Macron to Trump: "You're No Patriot!" (Nov. 13, 2018).  Mr. Buchanan also wrote: "As for Trump's policy of America first, Macron trashed such atavistic thinking in this new age: 'By saying we put ourselves first and others don't matter, we erase what a nation holds dearest, what gives it life, what makes it great and what is essential: its moral values.'"
Mr. Buchanan also wrote: "But Trump did not say that other countries don't matter. He only said we should put our own country first. What country does Emmanuel Macron put first?  Or does the president of France see himself as a citizen of the world with responsibility for all of Europe and all of mankind? . . . But is Macron really addressing the realities of the new Europe and world in which we now live, or is he simply assuming a heroic liberal posture to win the applause of Western corporate and mediate elites?"
Mr. Buchanan noted: "The leaders of the world's three greatest military powers — Trump in the U.S., Vladimir Putin in Russia and Xi Jinping in China — are all nationalists."
On the Tuesday before the 100-year commemoration, President Macron said on French radio: "We have to protect ourselves with respect to China, Russia, and even the United States of America."  President Trump called President Macron's comments "very insulting."
"Emmanuel Macron of France suggests building its own army to protect Europe against the U.S., China and Russia. its own military in order to protect itself from the US, China and Russia," President Trump tweeted on November 6. "But it was Germany in World Wars One & Two — How did that work out for France?  They were starting to learn German in Paris before the U.S. came along."
President Trump later tweeted: "The problem is that Emmanuel suffers from a very low Approval Rating in France, 26%, and an unemployment rate of almost 10%. . . . By the way, there is no country more Nationalist than France, very proud people — and rightfully so."  He then tweeted: "MAKE FRANCE GREAT AGAIN!"
"The once close relationship between President Donald Trump and French President Emmanuel Macron appears to be on the rocks . . . ."  Source: Bob Bryan, Make France Great Again!: The Trump-Macron bromance appears dead as Trump launches into tirade against the French leader, Business Insider.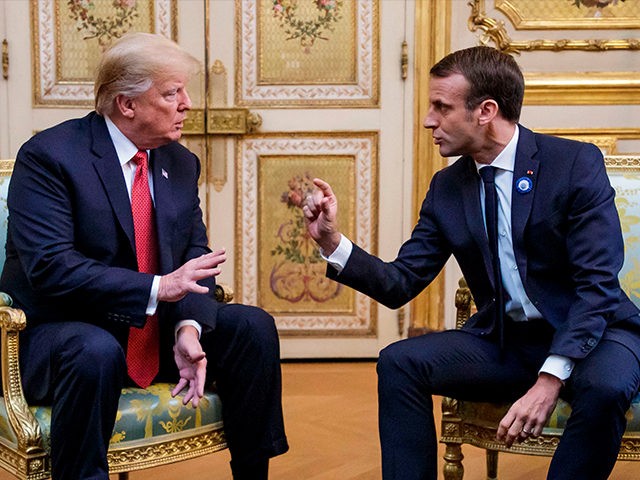 PRESIDENT TRUMP AND PRESIDENT MACRON MEETING IN FRANCE
Photo Credit: Christophe Petit-Tesson / Getty Images